A University of Worcester student could see her illustrations published in a bestselling novel after being chosen from hundreds of hopefuls as a finalist for an international prize
Iona Darroch is down to the last 25 entries longlisted for the 2019 Book Illustration Competition, which attracted 530 entries from 47 countries.
The winner will be commissioned to provide illustrations for the new edition of Howl's Moving Castle by Diana Wynne Jones, a novel later adapted into an Oscar nominated film.
"I am so excited to be long listed in this competition," said the 21-year-old, of Handforth, Cheshire, who is also an elite athlete.  "It was definitely a surprise to see my name and my illustrations along with some incredible artists.  The Folio Society publish some really beautiful books and The House of Illustration is a brilliant charity that supports both established and up and coming illustrators, so it is a real honour to make the final 25."
Jointly run by the House of Illustration, the UK's only public gallery dedicated solely to illustration and graphic art, and literary publisher, the Folio Society, the Competition was open to students and professionals who had to come up with three designs representing scenes from the story, and a book cover.  Iona, a third year Illustration student, developed her ideas as part of her course.
"I wanted my illustrations to convey the engaging and imaginative storyline of Dianna Wynne Jones' book," she said.  "There are lots of brilliant characters and events to put into pictures and I loved getting creative and coming up with different designs.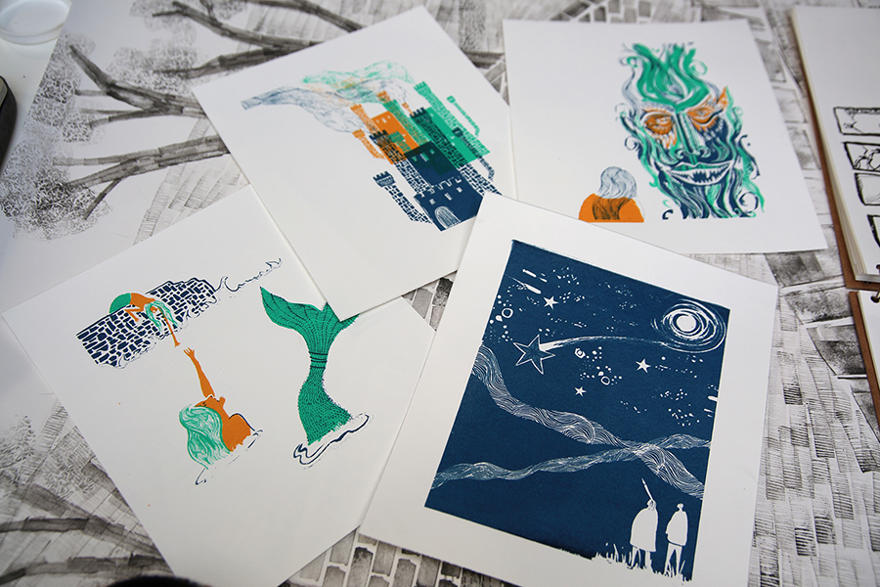 "I initially filled my sketchbook with lots of ideas and sketches that got my attention from the book before coming up with my final designs of the moving castle, fire demon, shooting star and mermaids.  I decided to screen print my drawings, keeping my designs fairly simple, only including the key objects and characters from each scene."
The Competition winner will receive a £5,000 commission to illustrate the novel and five runners up will receive £500.  There is also a People's Choice Award voted for by the public.
Iona combines her studies with playing professional elite netball as part of the University's joint franchise side, the Severn Stars.  She is an England youth international, who was in the bronze medal-winning Netball World Youth Cup team last summer and has recently been selected for the England Roses full-time programme, which prepares players for full international status.
"The University of Worcester as always have been a massive support," added Iona.  "My tutors are very aware of my sporting commitments and are a great encouragement to both my netball and my illustration work.  I am very lucky that I am in a position to enjoy what I do and I have the opportunities to pursue my passion for netball and art."
The winners will be announced on February 26.  You can see all the final entries and find out how to vote for your favourite on the Book Illustration Competition site.